Samuel Leroux & Alex Desabrais — Founders of Solios Watches.
Meet Samuel Leroux and Alexandre Desabrais, the founders of Solios, a solar watch start-up powered by the belief that sustainable product design can not only be easy on the planet, but also on the eye.

---
Samuel Leroux and Alexandre Desabrais, the founders of Solios, met at university. From the get-go, they shared the same entrepreneurial drive to grow a company from the ground up. But their business idea didn't come to them immediately, and it didn't take shape overnight, either.
Before they could set aside the grind of their post-grad jobs in the world of finance, they had to dedicate the first five years of their careers to gaining market experience. That's not to say they didn't spend all of their free time digging into research of all kinds; devote all of their vacation days to international fairs and conferences; and later, invest all of their savings into building prototypes, most of which could never be sold to the public.
In that time period, they juggled tons of possibilities, but the one thing Sam and Alex knew for sure was this: They wanted their idea to do good. They wanted to have a positive impact on people and the planet.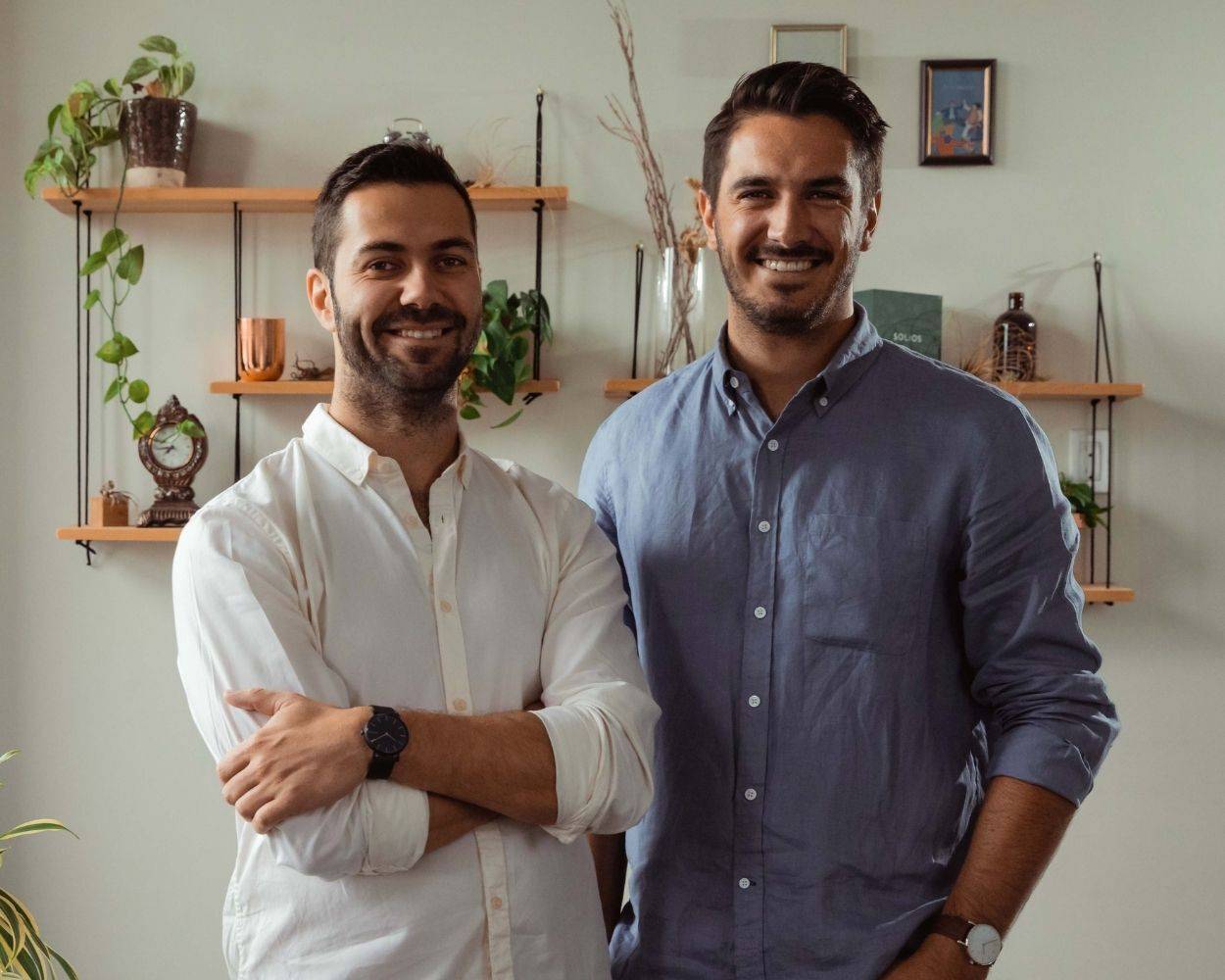 Over the course of his design journey, Ken Seeno has given a lot of thought to the choices he could make, the various forks in the road, and the pathways he could take. At different points in time, he might have pursued a career in music, or in interior design, or at Facebook. But he can easily pinpoint the moment when he realized he needed to design for meaning.
"I was at this design agency, and someone came in to tell us we would be helping a fast food brand become a family restaurant. And that's fine. But it wasn't for me. It's not something I wake up in the morning wanting to do."
He needed to find something he was so passionate about, and so excited by, that he could think about it and work on it tirelessly, without ever getting bored or annoyed or frustrated. Luckily, after turning down that Facebook opportunity, he found a challenge he could devote himself to, day in, day out, at Headspace.
"I found the problem we're trying to solve, which is to have this meaningful impact on the health and happiness of the world, endlessly fascinating, because it's totally immaterial, right? I've been working on the same product, iteratively, for five years. That's quite a long time. I feel like a design monk, literally doing the same thing over and over."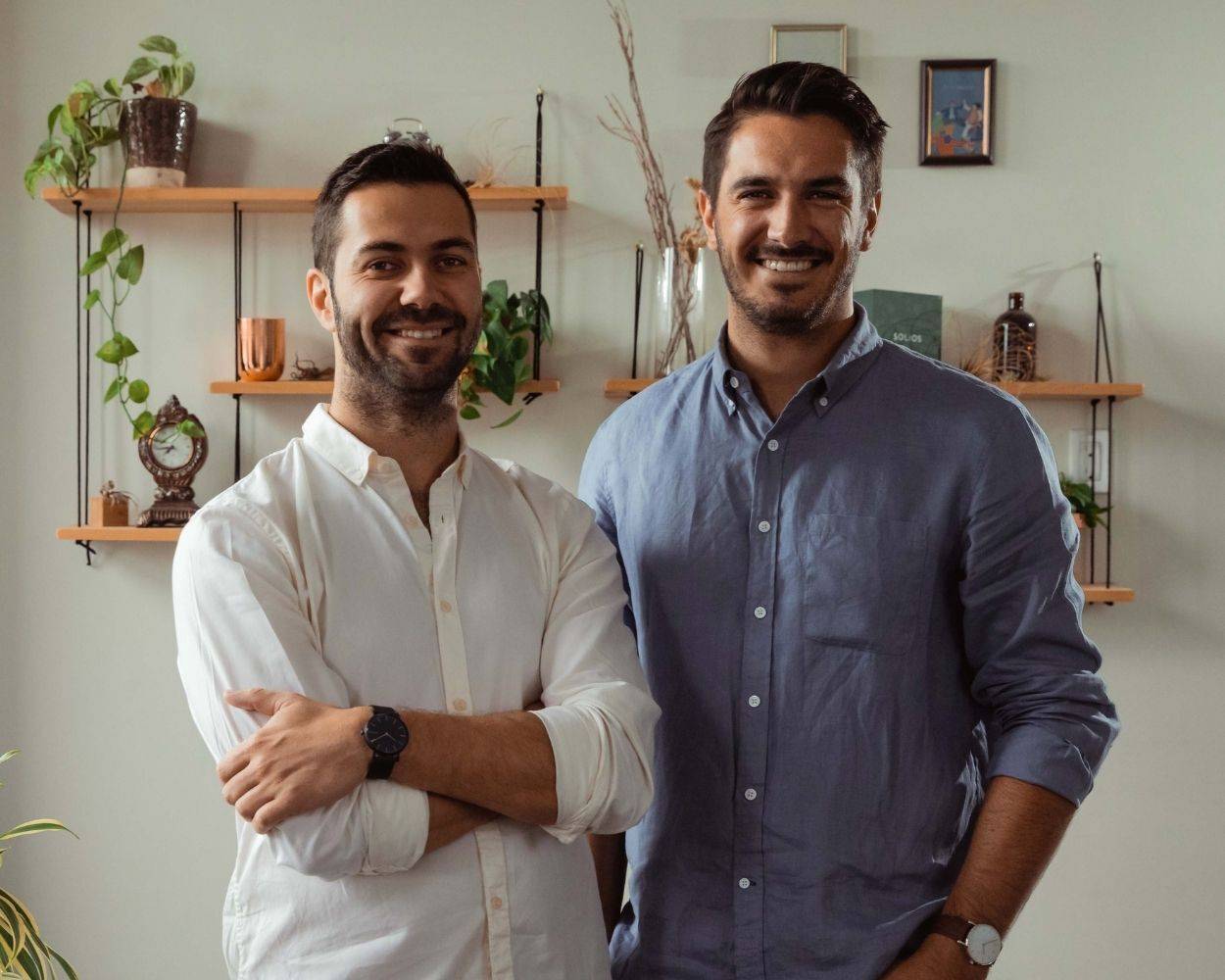 THE MOMENT IT CLICKED
This may come as no surprise: Sam and Alex are both long-time watch collectors, each with a dozen watches to their name long before Solios ever saw the light of day. Perhaps a little more surprising: Putting new watches out into the world isn't something they always believed in.
First, because there's a big difference between being a fan and an expert; between admiring watchmakers and becoming one. "The art of clockmaking is as old as time itself, and we're not from that world. We didn't know if those doors would be open to us," says Sam.
Second, because watches are no longer the functional commodity they once were. Our phones are perfectly capable of telling time, but as Ken Seeno of Headspace pointed out when we met him, they're also incredibly distracting. Not only that, says Alex: "Today, watches are a fashion accessory, an extension of your personality, an expression of your values and of who you are."
And that's when it clicked. If a luxury watch can represent social status and belonging, could an environmentally friendly watch symbolize another set of beliefs? Could it be a new way of communicating your engagement to ethical consumption? Perhaps it could act as a wearable reminder of your true priorities the next time you absentmindedly reach for a plastic bottle at the convenience store. Or as a conversation starter for a friend interested in bettering their consumption habits.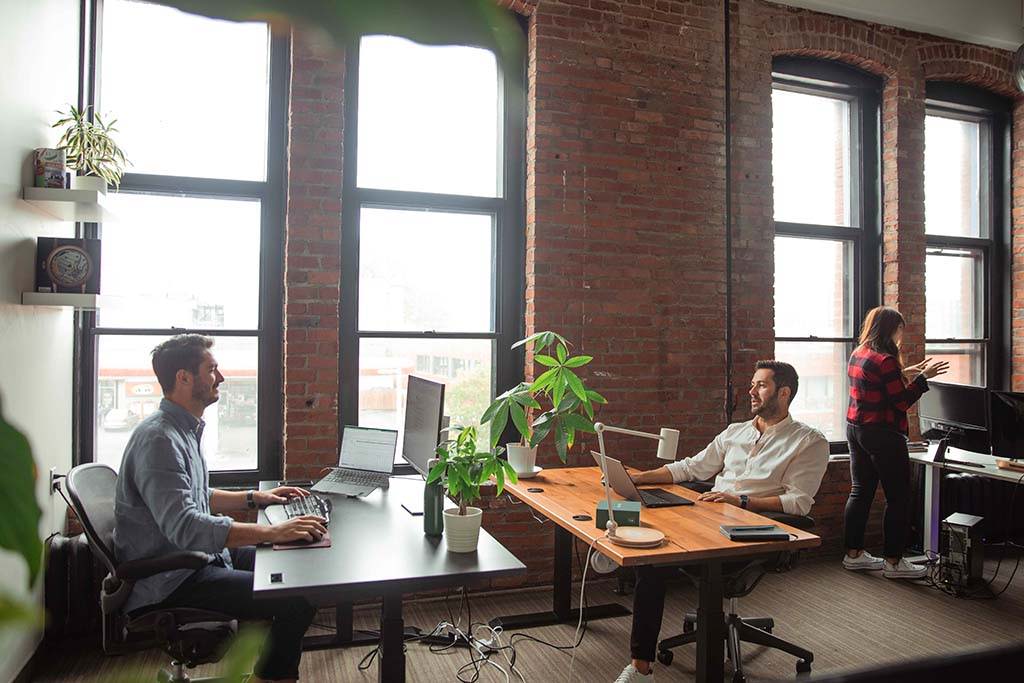 "Today, watches are a fashion accessory, an extension of your personality, an expression of your values and of who you are."
"A single person can't have much of an impact on the planet, that's the unfortunate truth. But a mass of people can initiate a movement in the right direction. And if Solios can have a multiplying effect, if one person wearing a solar-powered watch can inspire five people to opt for a responsible consumption alternative, we'll have accelerated a wave of change," says Alex.
Behind this is Alex and Sam's belief in the power of positive reinforcement. "Being asked to forgo what you've always known can seem like an impossible mountain to climb. Feelings of blame, fear, or guilt can make you reject new ideas before you've even truly considered them," notes Sam. "We think people are more likely to be open to change if we provide them with moral support, friendly reminders, and accessible solutions."
In other words, convincing everyone to go vegan or to adopt a zero-waste approach may be a long shot. But giving them convenient tips to help them reduce their meat consumption or their carbon footprint seems much more attainable. And conquering these smaller hills, together? That seems applicable on a much wider scale.  
A STORY WITHOUT COMPROMISE...
Interested in how Solios combined passion, thoughtful design, and sustainable materials? Here's the story of how Sam & Alex created Solios Watches. They established the brand with the burning desire to make the world a better place, and this makes us proud of what we stand for.
PUTTING THINGS INTO GEAR
Let's face it, as well-intentioned as people may be, no one would wear a solar-powered watch that isn't aesthetically pleasing, even if it is environmentally friendly. In the same way, customers shopping for a Tesla aren't looking for the best electronic car… they're looking for the best car on the market, period. And herein lies one of the key tenets of any good product designer, according to Sam and Alex: An unwillingness to compromise.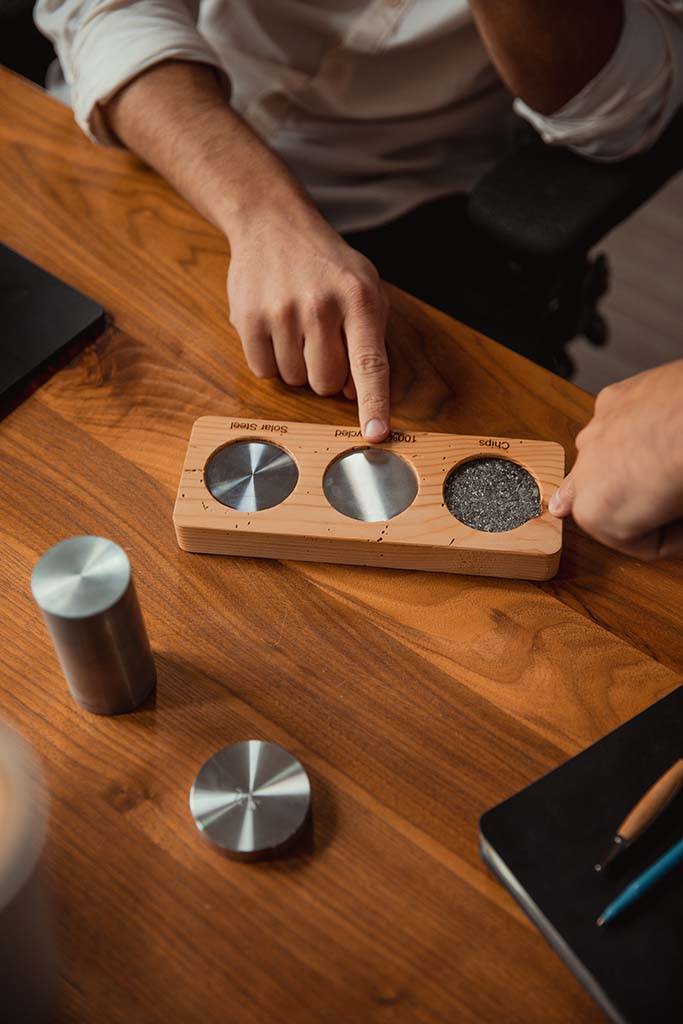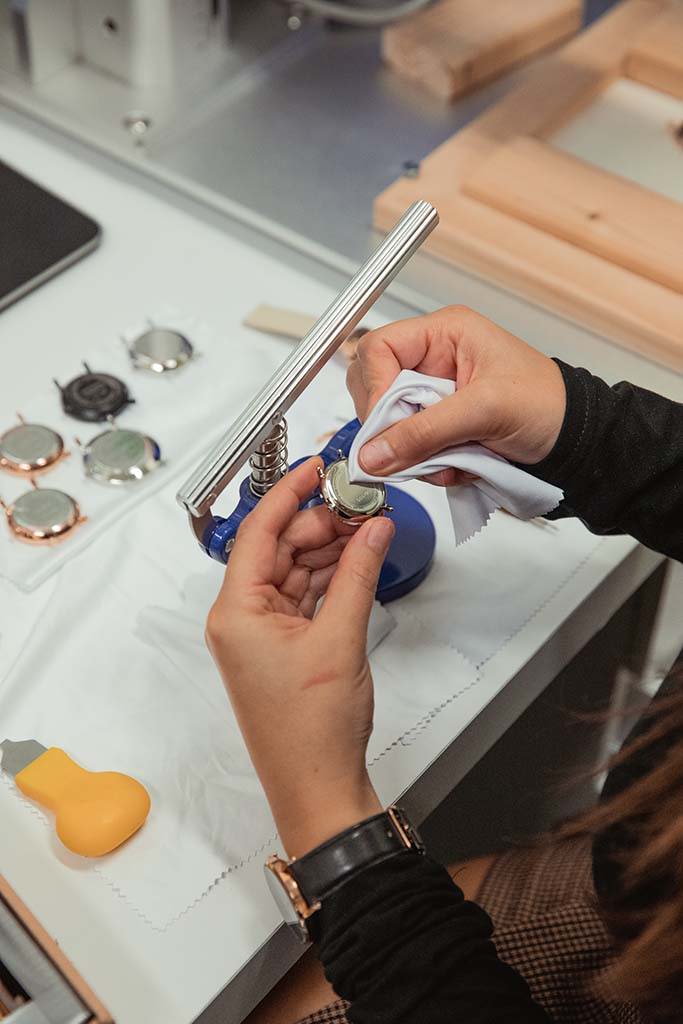 Years ago, when they were on their quest for inspiration throughout the world, they noticed an uptick of affordable luxury watches on the European market. Sadly, their elegance was short-lived. To maximize profits, these watchmakers had sacrificed quality, and therefore, durability. Right then and there, Sam and Alex promised themselves – and their future customers – that they would never choose style over impact or functionality. One thing was a given: That steadfastness would require creativity, innovation, and thoughtfulness. One thing they hadn't quite anticipated: It would also require patience, naivety, and stubbornness.
"When we think of product design, we think of creating, developing, or building something. But for us, it started with deconstructing everything we were told about watches. If we were going to claim thoughtfulness as one of our brand pillars, we had to question and truly reconsider every aspect, every component, every step of every process," explains Alex.
This time, the duo travelled to Switzerland, the cradle of watchmaking. And that's when naivety came into play. Sam tells the story, laughing: "We asked so, so many questions, and never took no for an answer, because we truly didn't believe anything was impossible. We realized many of our questions had never been asked before, because… who would question Swiss excellence?"
Of course, this process took time. Pioneering a new avenue isn't all glam and glory. In fact, it can be a long consecutive series of failures. Close to two years after they first conceived of Solios, they were back to square one. Far from having a product that was anywhere near ready to be commercialized, they had to cancel their first launch event. But true entrepreneurs are a rare breed, one that sees every door closing as a way of eliminating a potential solution and getting one step closer to their goal.
"Knowledge and experience shouldn't always be taken at face value. As much as we respected the expertise of our suppliers, we still felt like we needed to tease it all apart, and rebuild with better foundations. There has to be room for innovation, no matter the industry," Sam continues.
Fortunately, Sam and Alex never encountered the kind of elitism one might expect from life-long watchmakers. People who truly love their craft love uncovering new ways of improving their skills. They both recall that whenever an expert was impressed by their sustainable approach to watchmaking, it felt like downing ten energy drinks. It proved to them that they were on the way to creating something important and valuable.
OUR PHILOSOPHY IS SO MUCH MORE.
Aside from valuing the honesty of being transparent, we highly emphasize constant improvement. The two go hand in hand. We are transparent about our sustainable progress so that our community is aware of what they are encouraging when purchasing our solar watch.
SHINNG A LIGHT ON THE FUTURE
Even if they thought they were light-years ahead of the competition, Sam and Alex believe they still wouldn't be perfect. Even now, with a brand they're more than proud of, they continue to challenge themselves, finding ways to deconstruct and reconstruct products and processes in order to improve.
"When you point a flashlight forward, it isn't where the light is most intense that you can see most clearly. It's where the ray is pointing, where you're trying to go. We have to keep thinking ahead, keep thinking of what we're trying to achieve, rather than what's right in front of us, what's already been done or how it's always been done," adds Alex.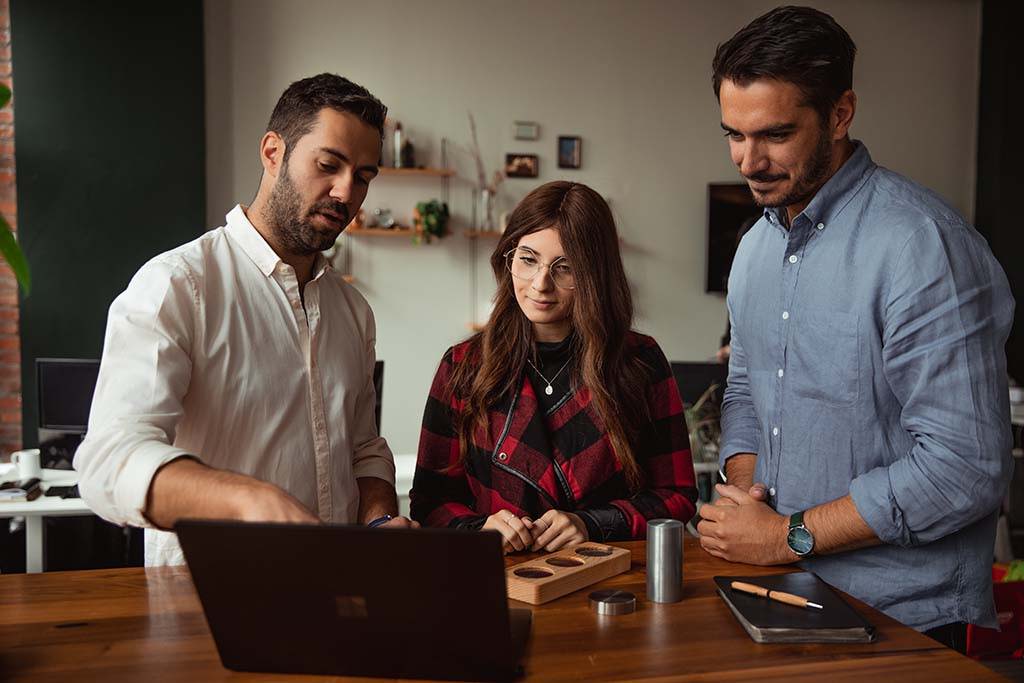 After all, this ideology – making sure everything you do does good for people and the planet – can be applied to any industry. And the magical ability to believe nothing is impossible, and to continue looking for yeses in a world of nos, is within all of us.
It's also the only way to address the environmental issues we can no longer ignore.
"When we started, sustainability wasn't on everyone's lips yet, but we're glad it is now. Uniting forces multiplies the possibilities. Putting our brains together and working towards the same goals can only get us there faster. Just because you can't do it alone doesn't mean you shouldn't try," concludes Sam.
Because as soon as you understand that the innovations of today will be the norms of tomorrow, you'll know there's no time like now to start challenging the status quo.
Solios is all about thoughtful design
Want more articles like this one?
Subscribe to our neswletter